WICCI's Coastal Resilience Working Group uses innovative methods and technologies to describe and predict the effects that the changing climate will have on the communities and property owners of Wisconsin's coastlines.
It is challenging to fully appreciate the potential consequences of changing lake levels, precipitation patterns, and storm events that may result from a changing climate. In part, this is because regional climate and lake level projections are provided via technical data that do not indicate specific consequences for city planners and resource managers. In some cases, the consequences of climate change on coastal communities may not be obvious because projected changes may have conflicting impacts.
Coastal communities need interpretive tools that synthesize distributed data and translate the predictions of regional climate change models and lake level forecasts into user-friendly, local terms that anyone can understand. Such tools will help decision-makers see the connections between climate modeling and the day-to-day decisions they must make.
Summary of Issues and Impacts
Wisconsin's Great Lakes coast is composed of bluffs, dunes, beaches and waterfront infrastructure. These interconnected coastal features serve as the interface between high-value upland areas and the economic, recreational and cultural assets of the Great Lakes. Processes like fluctuating lake water levels, waves, erosion, sediment transport and slope failure can combine to damage coastal properties and impair the function of waterfront facilities. Climate change threatens to exacerbate the coastal hazards facing Wisconsin's coastal communities.
Climate Issues Affecting Coastal Resilience
Fluctuating Lake Levels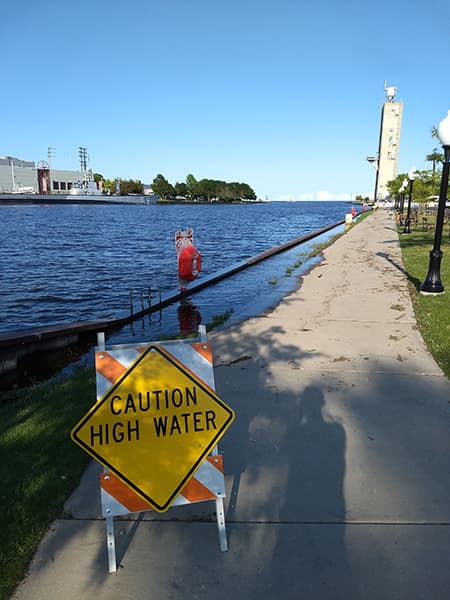 Both high and low water level extremes are anticipated to continue under a changing climate. This could include potentially higher highs and lower lows than seen in the historical record. This is because both precipitation and evaporation are anticipated to increase under a changing climate, leading to a tug-of-war in water supply into and out of the lakes that may have more extremes than in the past.
Declining Ice Cover
The observed trend of declines in the extent and duration of ice cover on the Great Lakes are expected to continue in a future warmer climate. Reduced ice cover exposes the coast to greater wave energy.
Increasing Wave Energy
Wave energy reaching Great Lakes coasts is expected to increase in the future in part due to anticipated decreases in ice cover extent and duration. A reduction of ice cover will expose the coast to waves for a greater portion of the winter, the season when coastal storm intensity is greatest and large wave events are most frequent. Great Lakes wave energy has also been observed to increase during the summer months, associated with an increased frequency of extreme wind speed events.
Increasing Precipitation
Trends of increasing precipitation totals and heavy rainfall event frequency are expected to continue under a changing climate. Increased precipitation is likely to decrease bluff slope stability and increase the likelihood of bluff slope collapse.
Impacts to Coastal Communities
Increased Coastal Flooding, Coastal Erosion, and Infrastructure Damage
Increased wave energy combined with periodic high Great Lakes water levels is likely to increase coastal flooding, coastal erosion, bluff failure and infrastructure damage. Higher lake levels and waves may also increase flooding of rivers and stormwater infrastructure that drains to the Great Lakes due to higher water levels at outlets into the lake. Low water levels will also lead to wave downcutting of the lakebed, wave scour at the toe of shore protection structures and accelerated deterioration of normally submerged timber infrastructure as it becomes exposed to air. Extremely low water level may also lead to insufficient water depths for drinking water intakes to function.
Reduced Bluff Slope Stability
Increased precipitation is likely to lead to a greater number of unstable coastal bluff slopes and subsequent bluff collapses. Greater precipitation and more frequent intense events will increase surface water runoff down the bluff face while additional water infiltrating into the groundwater table will lubricate soil particles and reduces the slope's stability. This instability will be further compounded by increased erosion from high lake levels and increased wave energy.
Impairment to Nautical Navigation
Periods of extreme low lake levels, potentially lower than seen in the historic record, will result in insufficient water depths for navigation in ports, harbors and marinas. Economic loss can result if vessels are not able to access facilities or need to reduce cargo loads to maintain higher drafts. Safety and accessibility issues may occur if large elevation differences exist between dockage and vessels at both extreme high and low lake levels.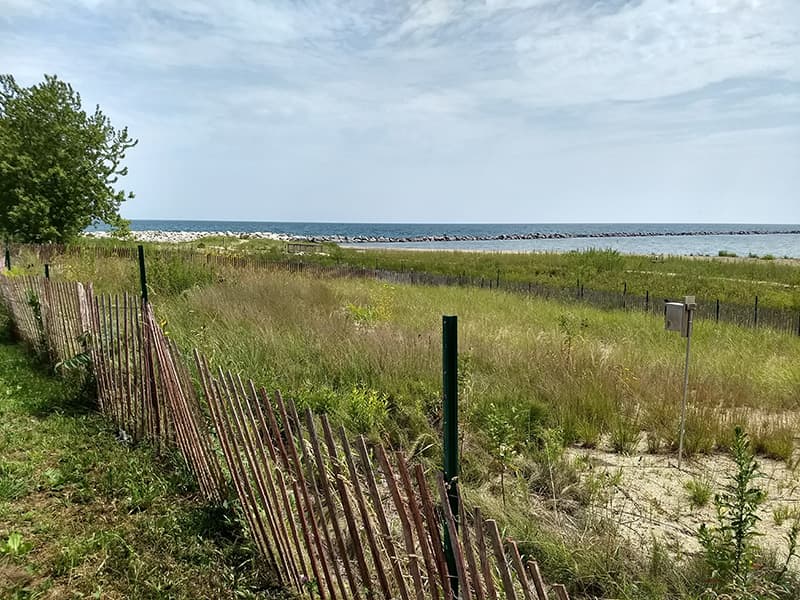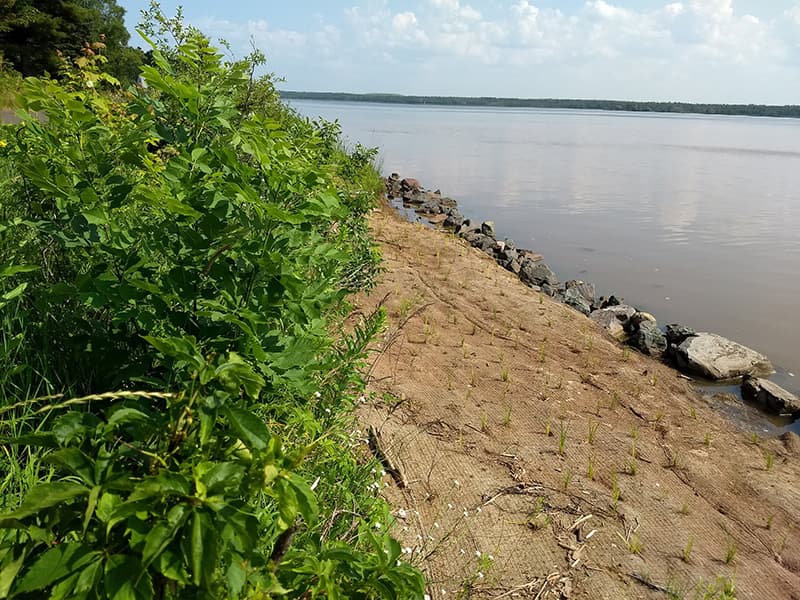 Recommended Solutions/Strategies
There is no "one-size-fits-all" solution to the impacts of climate change on coastal communities because of the variability of Great Lakes coastal conditions and needs from community to community and even site to site. However, there are a number of general guiding principles that can help coastal communities adapt to the threat of coastal hazards:
Consider Future as Well as Current Conditions
Consider the function of coastal assets under all possible lake levels and don't make changes based solely on the current lake level.
Address Root Causes
When planning actions, consider the causes of hazard issues before acting with common solutions that may not be appropriate for the situation. Choose management actions that address the actual root cause of coastal hazard issues.
Relocate When Possible
Locate homes, infrastructure and other assets as far from eroding shorelines and floodways as is feasible. It is often easier and cheaper to avoid the impacts of coastal hazards than it is to fight the forces of the Great Lakes.
Be Proactive
Plan before coastal hazards have urgent impacts. A proactive coastal vulnerability assessment may help identify priority needs.
Consider Nature-Based Solutions
When possible, work with nature to protect coastal investments. Nature-based or living shorelines may be a suitable option depending on site conditions.
Consider Adjacent Properties
Be aware of the impacts that modifications to the coast may have on coastal processes like sediment transport and wave dynamics. Some coastal modifications may increase erosion at adjacent properties.
Engage the community
Plan together with neighbors and communities when possible to coordinate actions and balance the risks of different stakeholder groups.
Adjust Management Strategies
Make structured and iterative management decisions while constantly monitoring and assessing current and alternative strategies.
Maintain Coastal Protection Structures
Periodic inspections and maintenance of coastal protection structures is imperative to ensure the function and the ability to adapt to changing conditions.
Environmental and Climate Justice Issues
Access to the Great Lakes for recreation, fishing, and cultural experiences is often influenced by socioeconomic factors. This can be due to proximity to Great Lakes access points, resources needed for access (like watercraft), or water quality concerns at convenient access points. Consider incorporating public access to better allow all people to enjoy the Great Lakes as part of resilient approaches to coastal management.
A number of low-lying coastal areas vulnerable to flooding in Wisconsin are home to socially vulnerable populations. Environmental justice should be considered when addressing coastal flooding and local residents and community groups should be engaged to move towards equitable solutions to flooding.
Resources
This is an accordion element with a series of buttons that open and close related content panels.
Understanding Great Lakes Coastal Hazard Issues
Adaptation Options
Maps and Data
Planning and Policy Options
Wisconsin Coastal Resilience Hubs and Networks
Other Great Lakes-Wide Climate Change Assessments
Working Group Documents
Our Team
Stakeholders and Partners
University of Wisconsin Sea Grant Institute
Wisconsin Coastal Management Program
Wisconsin Department of Natural Resources
Wisconsin Emergency Management
Municipalities, counties and regional planning commission with jurisdiction along the Lake Michigan and Lake Superior coasts
Members
Adam Bechle (co-chair), Coastal Engineering Outreach Specialist, University of Wisconsin Sea Grant Institute, bechle@aqua.wisc.edu
David A. Hart (co-chair), Assistant Director for Extension, University of Wisconsin Sea Grant Institute, dhart@aqua.wisc.edu
Members of the Wisconsin Coastal Management Program's Coastal Hazards Work Group