Read this in Spanish / lee esto en español
Linda Cadotte is the director of the Parks, Recreation, and Forestry Department of Superior, Wisconsin.
What is your role/who are you?
I am Linda Cadotte and I have the pleasure of directing the Parks, Recreation, and Forestry Department for the City of Superior.
What climate impacts have you seen as part of your job?
There have been a variety of things. Some of the weather-related less extreme cold temperatures in the evenings has affected our ice quality for skating programs. We also have a winter ice festival on the lake and the last few winters it has been hit or miss whether the ice is going to be thick enough and the temperature will be cold enough to be able to keep making ice. The quality of snow and how long it is going to last is affecting our cross-country skiing.
The more extreme rain events and the extreme saturation of the ground last spring caused a decent amount of higher root structure trees to fall over because the ground couldn't hold the roots in. This summer we have been experiencing the opposite with more drought like conditions and more difficulty keeping everything alive.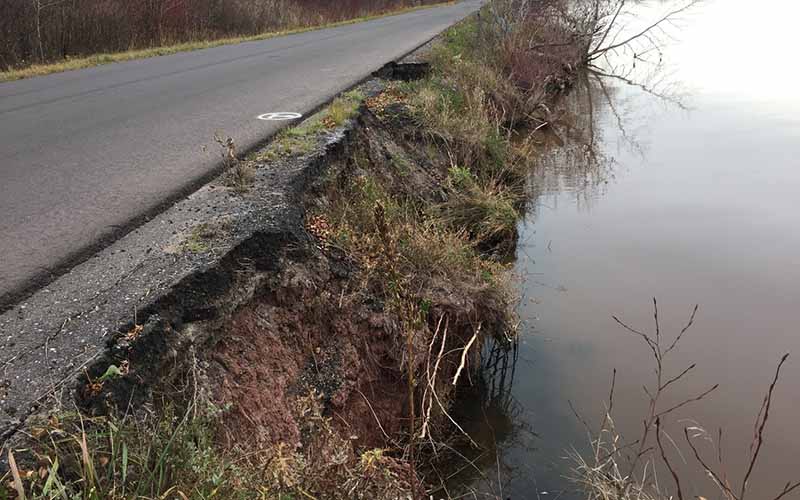 Seasons also appear to be shifting. We used to use hard dates like November 15 or April 15 to begin and end recreational activities. Now it seems to depend more on what we are seeing with the actual temperatures and not necessarily be tied to the calendar dates. It's not as predictable as it's been for some of our programming-related activities.
We have also had, not specific to the parks but with the storm events, the rain coming a lot more at a time without having the ability for the ground to soak it in. This makes the flooding or runoff a little more destructive, with eroding shorelines in some of the river and coastal areas. A steady and slower rain event allows more time for the water to absorb into the ground.
What has been happening in the coastal areas?
Wisconsin Point is almost 4 miles of beach along the point of Lake Superior and Allouez Bay. Right down the center of it is the one road that accesses the entire peninsula. Because of the changing water levels and uncommon wind directions, there was erosion coming from the southern part and cutting up close to and compromising the road.
We received Wisconsin Coastal Management and National Oceanic and Atmospheric Administration (NOAA) funding to stabilize Wisconsin Point in a way that would be more adaptable to the fluctuations of water levels and winds. Instead of hard-armoring and rip rap right along it, which is the favorite of many, we did work to install a living shoreline. We put in some rocks to armor the shoreline out further and then put in vegetative planting between. Quite a few of the areas have established in the last few years.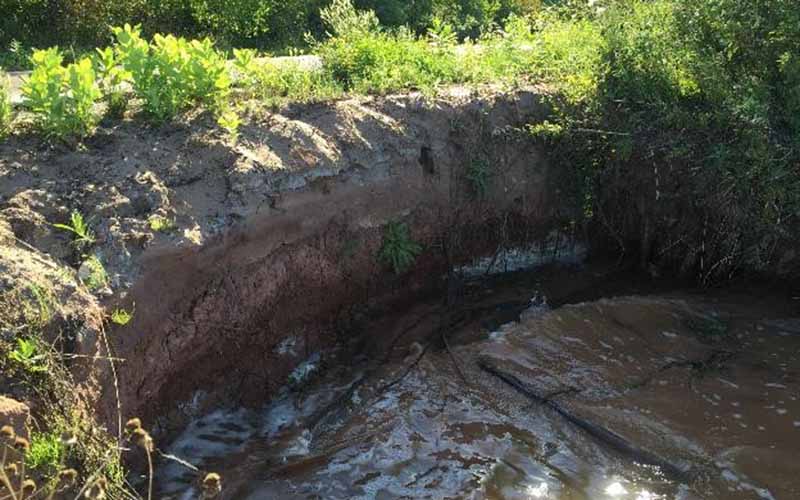 We have noticed, not specifically in this project, that in other areas where we have ongoing vegetative establishments along the water, those areas don't wash out like the areas that are armored. It's amazing how much the waves and the wind can move between the large boulders, yet vegetation seems to endure.
Other components of that project were trying to reduce the areas of disturbance in the dunes by creating accessible walk paths and boardwalks over them. These walking paths direct people and help to minimize the impact on the dunes, which allows for more plant establishment and increases public access. The less desirable plants are less likely to grow if we have a solid establishment of the dune grass.
Why did you go with this less traditional, living shoreline, approach?
I don't have the rooted history of public works for the last 30 years to only know one way. To me there's always new, improved, and different ways to approach projects. Vegetated areas are more visually appealing and have more longevity, along with some of the other benefits that you get out of it. While it may take a little bit more to establish, or take a little more time or a little more money, once established, there's a proven history of those vegetated areas being more resilient.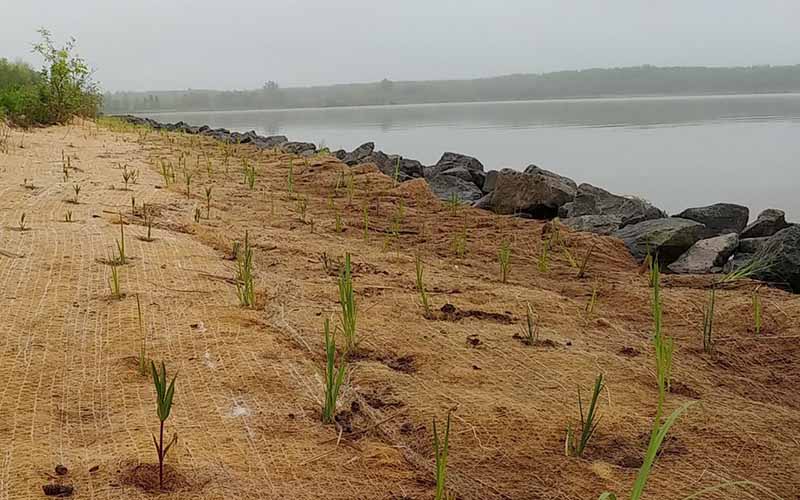 In my mind, government often doesn't even have the resources to do things in the first place. We certainly don't have the time to keep redoing them. If we can take a little bit of time, effort and money in the front end, and something's going last longer and it's going be more resilient, visually appealing and beneficial for the wildlife, than it simply makes sense. It's a more upfront cost to have long term benefits.
Can you expand on the benefits?
With the living shoreline you get the filtration of runoff from that road and some of the other things that are coming from the land before it goes to into the water systems. That and everything else that I have already mentioned, visually, the calming effects when you have that vegetation around, and the environmental benefits like air quality.
Were there any Native American remains or features as part of the site you had to consider?
We did an archeological assessment around the parking lots and any area where there was ground disturbance planned. We did ground penetrating radar surveys and shovel testing. We had tribal observation during the construction of the project as well. We were able to identify the areas to avoid. In particular, one of the parking areas was redesigned to avoid cultural resources.
History, cultural resources, and tribal engagement were all large considerations and definitely ones that we wanted to make sure we were aware, considerate, and sensitive to them.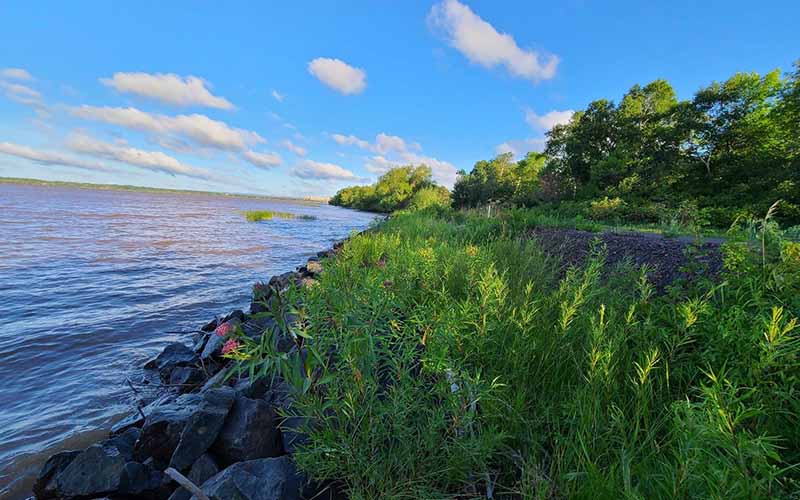 Did you work with any tribal governments on that or is it just part of your process?
We consulted with NOAA and I believe there were, somewhere between three to five tribes that were involved in the consultation process. My point of contact is the tribal historic preservation officer from Fond du Lac. She was very involved in the surveys and we had either her or another representative on site during the construction. It was a very collective, collaborative process, making sure we were doing what they deemed to be the correct approach. It was somewhat new to the city to have a project of this caliber and this many different archeological areas within that same project space.
Have you gotten any feedback from the visitors?
Wisconsin Point is a place that's loved by so many and is so far-reaching. The more people that hear about it, the more people want to come and give it love, but that also means the more impact. This project was really trying to provide that access in a way that was safe and also reduce the impact on the land in the long term.
I would say overwhelmingly the feedback is positive and the amenities that are provided have positively impacted the visitor's experience. There have been a handful of people that have not been very happy with the project, ironically, because they say we are bringing a lot more people there and it's less private. I think all in all, what a great project to help sustain this incredible property for years into the future.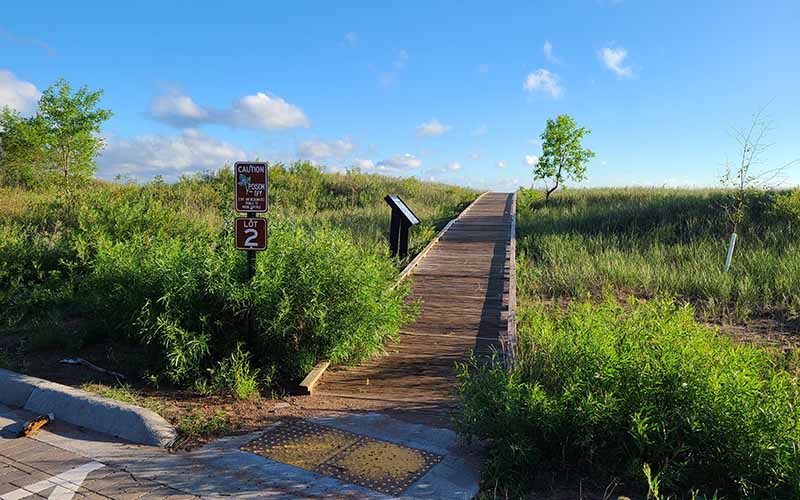 Do projects like this give you hope for the future?
For me, I realize that we have a long way to go pushing engineering, contractors, and even internal policy and decision makers to be able to convince them to do a project that is not the least expensive way to do it. Shortly after this project, we did a similar living shoreline project on Barkers Island Beach. The engineering firm that we worked with had done a lot more research and effort on how to approach a project like this. After a lot of educating, we got to a point where we were doing a walk-though last summer, which is two summers after the project, and they said that they were thrilled how well it held up and that there are minimal issues.
I get excited and find hope in the fact that we're slowly turning a lot of people who have worked in this industry far longer than I have to get comfortable with new ways and methods. If you're really comfortable with building a ditch, for example, versus planting trees to mitigate storm water, you're going to keep building ditches. The more people get comfortable with the alternative green infrastructure methods and are able to successfully implement projects, it will be really monumental at moving things forward and looking at it projects more sustainably. Let's keep pushing ourselves forward and not get comfortable with doing things the way we've always done them, because the weather is not staying the same for us.
Do you have advice for other parks directors as they look at sustainable building designs?
For me I needed to get to a point where I felt comfortable with the level of information and research that I had been able to do to state the case and feel comfortable, confident and able to defend the direction we needed to go in. If you're having doubts yourself on something, it's hard to navigate something forward. Spend the time with those who have gone through similar challenges and try to work with professional resources available, like Sea Grant. Having those folks in your corner to help with those conservations can be really empowering as well. It's really just persistence. If you hear a no, that's not the place to stop, but rather to regather, realign and continue to progress forward.
Learn More
The views and opinions expressed in this interview are those of the authors and do not represent official policy or position of the University of Wisconsin-Madison or the Wisconsin Initiative on Climate Change Impacts.
Background
The city restored dune vegetation to reduce erosion and provide habitat. Access over the dunes was limited to new trails to reduce human impact on the dunes. The city also constructed a marsh sill nature-based shoreline to address wave erosion on the Allouez Bay side of the point. The project was sensitive to important tribal sites on Wisconsin Point.