Bu Wang is an assistant professor and Rob Montgomery is an adjunct faculty member, both in the Department of Civil and Environmental Engineering at UW-Madison.
What led you to begin the "Accounting for Embodied Emissions in Wisconsin Construction Materials" Project?
Rob: There are a lot of emissions produced by the construction industry. This project was intended to design a scheme to incorporate a measurement of those emissions in a contract bidding process. What the students discovered is that it is much more complicated than that.
Bu: The emissions we are talking about are the emissions that are produced during the production of each material. For example, when we make concrete, we have to quarry the aggregate and crush it, which requires energy and that creates carbon dioxide. Manufacturing cement and steel requires high temperatures, which is a very high energy process. Manufacturing concrete and steel alone account for more than 15 percent of our global carbon emissions. In order to get down to carbon neutral, we must deal with the emissions generated in the production of these materials.
Rob: It's astonishing, honestly, how high those emissions are. For the project, we asked: "How could we develop information that would be useful to a sewage district or a transportation department and start to reduce these embedded carbon emissions?"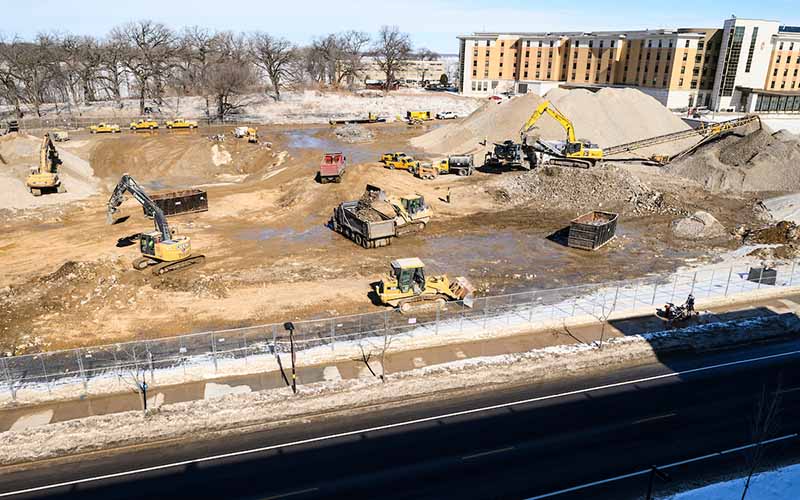 What did you learn?
Rob: It is a very complicated process. You can't just drop it on contractors in a bidding situation and say, "oh by the way we need 20 percent carbon emissions reductions" when we don't actually know what all the emissions are. There is a big learning curve for the contractors and the clients.
Bu: We realized that before you can consider embodied emissions in a bidding process, you must be able to calculate them in the first place. Without knowing a measurement like, "1 ton of steel has about 1.7 tons of embodied carbon dioxide," we can't set a realistic carbon reduction target. This step is not straightforward. You need to account for how these materials are produced, where they are produced, how far they are transported.
Were those questions answered in your project?
Bu: This is tricky. An infrastructure client evaluating a bid project today may have two contractors with two different bids and need to compare different types of data from both contractors to see which works better in terms of emissions reduction. Ultimately, for the student project, we decided the best approach was to educate the contractors and clients and provide them with information, so they know how to generate and use that data in a consistent way.
Rob: Today, contract awards are given to the lowest responsible bidder, and it is difficult (not impossible) to include non-cost factors such as embedded carbon content. The best approach could be to develop project alternatives and specifications in the planning stages that achieve lower carbon content. This will be a process of the planners; design engineers and contractors learning together how to quantify and reduce carbon content. We need to get to the point where we know what the options are to get a 30 percent reduction and then bid the job out in a way that fits with the lowest responsible bid.
When we see highway projects that are reusing materials, is that part of this new approach?
Rob: Those types of projects, where you drive past an interstate project and see these enormous piles of concrete, that's a new thing in the last five or 10 years. It's a good thing because that material efficiency equates to energy efficiency. It can be part of what we are talking about; it depends what kind of a box you put around this evaluation of overall carbon content. Cradle to gate, cradle to hand-over, cradle to grave, cradle to cradle. These ideas are part of the sustainability world which predates concern about climate change. Climate has just sharpened the issue.
Bu: The Wisconsin Department of Transportation has been doing a lot to reduce embodied carbon emissions, by recycling pavement especially, and they track how much is being recycled every year. The amount of recycled material is big and has been steadily increasing. Because, as a society, we haven't been doing carbon content accounting, people don't have an idea of how beneficial these practices have been in terms of mitigating climate change.
Do you have hope for the future?
Rob: Broadly speaking, yes. The manufacturers of construction materials are aware of these issues and the need to figure out a technically thorough way to have those issues brought into contracting for construction projects. Our objective for the next six months is to get the information we've developed out via forums that already exist (such as industry associations) and begin the process of making a policy on what we going to start asking contractors to provide.
Bu: I have to say I'm not as optimistic as Rob. Globally, we aren't meeting our goals. Europe has been championing carbon accounting for a long time. They have cap and trade markets and have been way more aggressive than the United States in terms of doing things to mitigate climate change. I feel like we are going in the right direction, but we are not moving fast enough.
Rob: We need information and motivation to start. I don't want to be too optimistic, but I am reading more and more that municipalities, even small places like Stoughton, Wisconsin, are setting up to look into climate change. The public is interested in this topic and community leaders are responding. They are trying to make a difference. Policy in a democracy is basically a supply and demand proposition and we are seeing the demand from many municipalities and elected officials. Ten years ago, that groundswell of interest wasn't there.
Are there any environmental justice issues to be addressed as part of this process?
Rob: Environmental improvement has a social justice relationship. There's a demographic correlation in the vulnerability of communities—oftentimes the negative impacts are concentrated on the "wrong side of the tracks."
Bu: Climate change impacts underserved communities, that's for sure. In that way carbon mitigation activities will benefit underserved communities. We also need to be aware of who will produce and manufacture these new technologies and where these will investments go. Smaller states and smaller contractors are not ready and may be pushed out of this market. These are likely the same people that will suffer more in terms of climate change impact but will not enjoy the benefit of innovation or new technology in the market. It's like coal communities. They are not only suffering from the environmental and health impacts of mining and burning coal, but they are also suffering economically because they are losing jobs. I fear that this similar thing will happen when the changes come to the construction material sector.
Bu: I talked a lot about my concerns, but I hope we can acknowledge some of the things people are already doing. This includes efforts from the Wisconsin Department of Transportation with pavement recycling and groups like the Wisconsin Concrete Pavement Association and Wisconsin Asphalt Association. People in the industry are aware of the carbon accounting issue and are already working to address it. I think it is important to acknowledge that.
The views and opinions expressed in this interview are those of the authors and do not represent official policy or position of the University of Wisconsin-Madison or the Wisconsin Initiative on Climate Change Impacts.
For More Information
Bu Wang
Assistant professor
Civil and Environmental Engineering
University of Wisconsin-Madison
bu.wang@wisc.edu
Rob Montgomery
Adjunct faculty
Civil and Environmental Engineering
University of Wisconsin-Madison
rmontgomery@eorinc.com