Caroline Gottschalk Druschke is an assistant professor in the Department of English at the University of Wisconsin-Madison. Tamara Dean is a board member of the Driftless Writing Center. Margot Higgins is a lecturer at the University of Wisconsin-La Crosse.
Southwest Wisconsin's Kickapoo River watershed has experienced at least one 100-year-magnitude and two 50-year-magnitude floods in just the last decade, and climate forecasts predict this pattern will intensify. These communities are used to floods, but flood events are worsening and accelerating due to the impacts of climate change on precipitation in the region, coupled with changes in land use.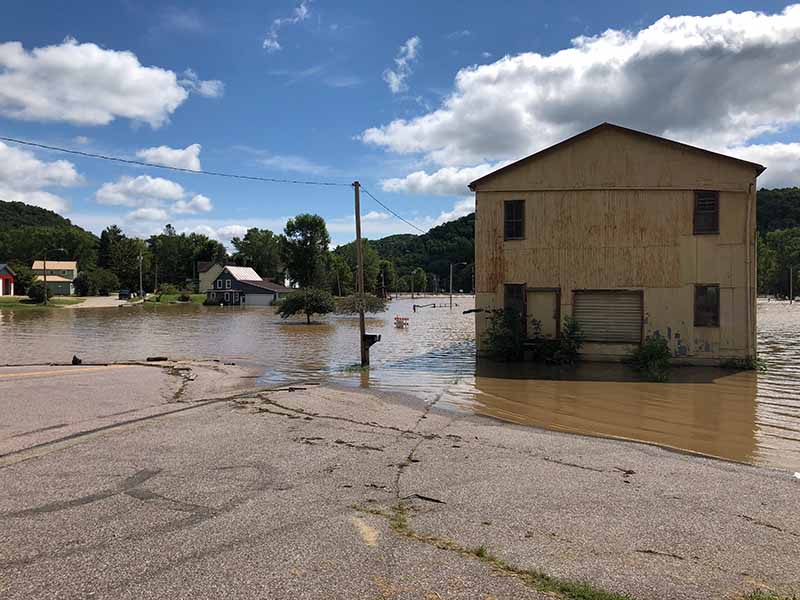 The worst of these floods, striking the Kickapoo River watershed and adjacent Coon Creek watershed in August 2018, devastated homes, businesses, farms, and community spaces throughout some of the most rural and economically disadvantaged counties in the state. Dams were compromised. Residents were evacuated. Rivers rose above historical marks by more than two feet in some places. Communities were deluged, with many houses, businesses, and farm buildings condemned or abandoned. Farmers lost crops and acreage as topsoil washed downstream.
Following the flood, community members came together to clean out buildings and repair the damage. People donated money, food, clothing, shelter, and other essentials to help neighbors survive. State and federal agencies got involved. Villages along waterways discussed how to become more flood resilient, even if it meant moving every building to higher ground.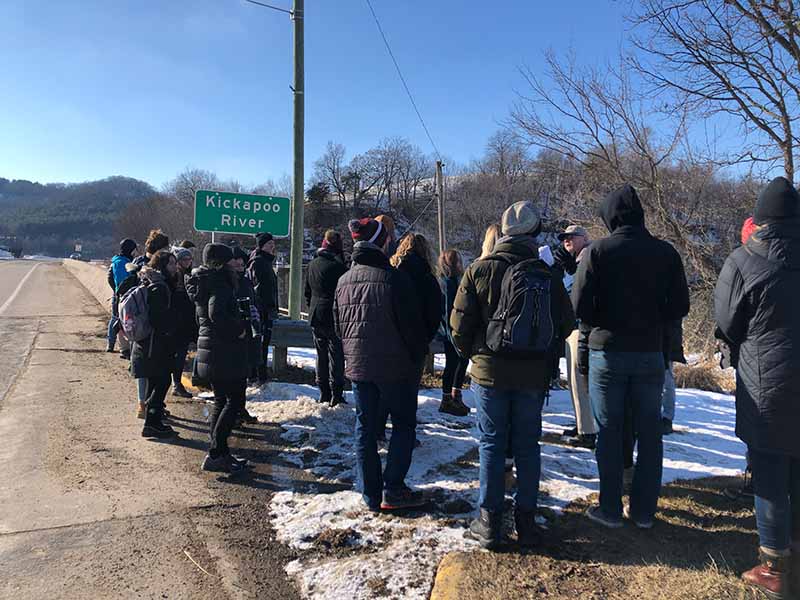 The flood's most dramatic impacts were shared on social media, in regional newspapers, and on local radio stations. But Vernon and Crawford Counties, where much of the devastation occurred, lack substantial economic or local media resources to cover the topic in-depth over time. Almost three years later, residents continue to process what happened, rebuild, and worry about an uncertain future.
In light of this damage, The Driftless Writing Center, in Viroqua, Wisconsin, launched Stories from the Flood in spring 2019, a community-driven oral history project to collect and produce thorough accounts of what area residents, municipalities, and the environment have endured as climate change alters their lives and landscape. The collection, archiving, production, and distribution of these stories is a massive undertaking that has taken support from individuals and institutions inside and outside the area.
With the help of community volunteers and students from University of Wisconsin-La Crosse and University of Wisconsin-Madison, the project has collected over 100 oral histories about area flooding, which will be housed in the Oral History Program at University of Wisconsin-La Crosse and the Vernon County Historical Society.
As local municipalities, Vernon, Monroe, La Crosse, and Crawford Counties, and area non-profits like Valley Stewardship Network and Wisconsin Wetlands Association come together with state and federal staff and politicians to consider how to work together across political lines, how to streamline future disaster recovery response, and how to imagine a more flood resilient future, these stories add important texture and nuance about the hyper-local impacts of flooding.
By attending to the experiences of local residents, Stories from the Flood highlights the devastation and loss but also creativity and strength in local communities as they deal with global change. Stories from the Flood offers local residents a platform for working through their collective trauma, while providing an important foundation for regional planning about future flooding in the Kickapoo River and Coon Creek watersheds.
The views and opinions expressed in this interview are those of the authors and do not represent official policy or position of the University of Wisconsin-Madison or the Wisconsin Initiative on Climate Change Impacts.