Dylan Jennings is the former public information office director for the Great Lakes Indian Fish and Wildlife Commission. He is a Heal Earth Partnership Doctoral Fellow and Bad River tribal member.
How is climate impacting the Anishinaabe people?
When thinking about climate impacts to tribes, remember that their boundaries are set. If the population of beings is reduced or extirpated in the ceded territories, or they migrate northward, the Anishinaabe people will no longer be able to rely on them for cultural and ceremonial purposes and subsistence. The Anishinaabe people have cultural, ceremonial and subsistence connections to wildlife, plants, and natural communities.
Wild rice is very important to the Anishinaabe and is very vulnerable to many variables, including things like high water levels. A lot of data that WICCI has produced correlates with increasing water levels, especially in our area, that create catastrophic conditions for wild rice. That's something that our communities are looking to monitor over time and figure out ways to address that.
Another aspect is warmer temperatures and increased water levels and other conditions that other species, non-native species, can thrive in. Tribal nations have taken actions to either eradicate or manage those non-native species, or prevent them from coming in the first place.
Tribes have been looking at climate impacts for a long time. How do you take thousands of years of cultural knowledge and systems and conform to what is happening with the current environment? They are trying to figure out which species are thriving and doing well in the current conditions and what we can do with them.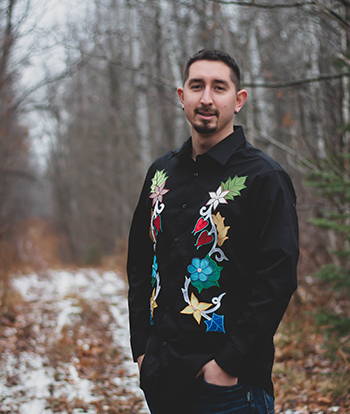 One example is the narrow leaf cattail that is non-native. Rather than seeing it as an enemy, how can we use it in weaving or as a food source? There is a recognition that people are extremely resilient and it's just a matter of finding that mechanism to figure out what to do.
The group that developed the tribal adaptation menu is a consortium of people from Tribal Nations, College of Menominee Nation, 1854 Treaty Authority, Michigan Tech, Northeast Climate Adaptation Science Center, Northern Institute of Applied Climate Science, and Great Lakes Indian Fish and Wildlife Commission (GLIFWC). With the tribal adaptation menu, individual tribes are looking at things important to them through their own cultural lens. Not all Ojibwe tribes are the same. They are figuring out what cultural resources are important for them and what types of adaptation steps they need to take.
Most important is that tribes have been vocal about not looking at climate change through just a Wisconsin perspective. Tribes have treaty rights that extend beyond Wisconsin into Michigan and Minnesota. It is valuable to look at things through a holistic regional perspective to address climate change.
The ceded territory predates statehood. The treaties were negotiated just before or during the time that states were becoming states. A lot of tribal nations refer to this place as "present day Wisconsin" or "present day Michigan" since prior to statehood, this was all tribal land. That notion of statehood or putting up those boundaries does not negate that tribal communities have subsisted on these lands for many generations. They are ancestral grounds that still bear a lot of importance. Tribes are vigilant in protecting them and taking care of them.
The notion of putting up boundaries is silly to a lot of our communities. What happens in Minnesota, especially in the border area, affects us in Wisconsin. The Great Lakes are a really good example of this — for example, Lake Superior contains many jurisdictions and state and national governments. The ceded territory holistic approach is more fruitful in addressing impacts rather than state by state.
What should we understand about the treaties?
The treaties were signed in the 1800s. When states became states, they did not uphold those treaty rights and imposed their state laws on tribal harvesters both on and off reservations. That process was overturned in the late 1900s through litigation and a series of landmark cases that acknowledged the treaties as the supreme law of the land and set up a process for co-management in our area.
In Wisconsin the Lac Court Oreilles Band of Chippewa Indians v. Lester P. Voigt decision (also known as the Voigt decision or, more commonly as the LCO decision) mandated that the state and tribes work together to manage the resources in the ceded territory. The tribes involved are signatory to the treaties. In Michigan, rather than forced litigation, they have consent decrees that set up a management relationship and protocol. So, the process is a little different in other states but it basically sets up co-management with the tribes.
Through the Voigt Intertribal Task Force process, the tribes meet monthly to discuss common issues. There is also a board of commissioners with members from tribal resource staff and designated tribal officials. GLIFWC and the tribes set the agenda and state and federal partner agencies often attend and make presentations or collaborate on topics of issue. The agencies can set up formal consultations on an individual tribal basis as well.
Tribes can also meet with GLIFWC as a larger body to discuss issues they may want to bring back to their individual tribal nations. For example, if there are issues with an Army Corps of Engineers (COE) permit or issues in a national forest, they can meet with GLIFWC, collaborate and discuss issues that impact tribal rights.
The wolf hunt process overstepped that federal court mandate to co-manage the resource through the consent process and formal consultation process. This year's wolf hunt followed litigation put forth by an out-of-state hunting organization and overstepped a mandate to work with the tribes as set forth by the Voigt decision.
In each state tribes encounter different barriers in getting treaty rights recognized. A lot of this is about federal and state governments acknowledging tribal sovereignty and tribal communities' ability to effectively manage the environment they have been a part of for thousands of years. Some tribal nations have gone steps further and are adopting "treatment as state" designation, which is essentially adopting federal air and water quality standards. This gives higher levels of protection, especially for resources of concern. Bad River Tribe and Lac du Flambeau Tribe in Wisconsin have done this by demonstrating they can carry out those federal regulations. Some of this has been happening for 20 years.
Tribes are taking these actions out of necessity to take care of the resources. This dialogue is way overdue. At the tribal level they are not only looking at the science but also the cultural aspects to maintain the relationship between the resource and the community. They are trying to create good hybrid solutions that are culturally relevant but also full of sound science.
How is climate change impacting tribal participation in the tourism industry?
A lot of tribal nations are located in rural areas. Where I am on the Bad River reservation, this is one of the poorest counties in the state. Tourism provides a big bulk of the economy. In the absence of tourism, it could be devastating to the local economy. Tribal nations are usually the largest employers in the local counties. Natural resource tourism includes hunting, fishing, and sight-seeing.
Bad River is working with the university and other entities to set up tours of wild rice to show what's at stake. Red Cliff has just started a fish processing plant. Without healthy fish populations or healthy resources, these businesses could suffer as well.
Recreation impacts of climate will be big for the tribes. Besides impacts to the fishery, other climate impacts are on swimming, ice levels and the span of the season to harvest. There are some days people can't swim because of the algal levels. Ice cover on lakes impacts that as well. The span of the season can vary in length, sometimes drastically which impacts tribal and non-tribal harvesters and their ability to harvest.
Another impact is blue green algae blooms. There are increasing warnings every year. In talking with tribal elders, they said you used to be able to drink the water from Lake Superior and some of its inland tributaries and we can no longer do that.
What about subsistence harvesting?
Subsistence is a large part of the economy for tribal communities. It is at the pinnacle of what tribes are concerned about and how they have survived. The signing of the treaties was our ancestor's way of preserving their way of life indefinitely. The community's land was pretty static so this was a way to survive. Ceded territory and harvesting are part of the health of tribal communities. It is part of both emotional and spiritual health. Foods play a role in ceremonies and so are part of the health of communities. They are also part of the health of our bodies.
Early in settlement, there was a period of assimilation after treaties were signed and there were attempts to remove the people or coerce them to adapt to society norms. In the treaties, there were provisions for annuity payments, commodities and rations. The commodities introduced were foods like white flour and white sugar, which eroded our reliance on traditional foods and were non-native, unhealthy food resources. Traditional foods are part of our ceremonies and are life affirming and, simultaneously, they are good for health.
We have really glaring health disparities across all native communities in the United States. There are high rates of diabetes and other heart-related issues. Subsistence harvesting can help address that by giving access to foods like wild rice that are some of the healthiest foods you can put into your body. Climate change will create bigger health gaps between tribal and other communities by putting those traditional foods at risk.
How is climate change impacting tribal health?
Climate change is creating bigger economic gaps and disparities between tribal health and other communities. For example, drastic heat ups and cool downs impact harvesting from sugar bushes by potentially reducing flow of sap in sugar bushes or creating variation in the duration of harvest season. Ultimately that type of healthy sugar that is harvested from sugar bushes will be in shorter supply and get more expensive. It will be less available and create greater health gaps for tribal communities and other historically marginalized communities.
Learn More
The views and opinions expressed in this interview are those of the authors and do not represent official policy or position of the University of Wisconsin-Madison or the Wisconsin Initiative on Climate Change Impacts.
For More Information
Dylan Jennings
Heal Earth Partnership Doctoral Fellow
Department of Planning and Landscape Architecture, University of Wisconsin-Madison
Bad River Tribal member
Governor's Task Force on Climate Change member
djennings2@wisc.edu