Kathi Jo Jankowski is a research ecologist for the United States Geological Survey.
Who are you and what do you do?
My name is Kathi Jo Jankowski and I am a research ecologist with the United States Geological Survey (USGS). I work at the Upper Midwest Environmental Sciences Center as part of a program focused on the Upper Mississippi River, the Upper Mississippi River Restoration Program (UMRR), authorized through the Water Resources Development Act and administered by the United States Army Corps of Engineers (COE).
I oversee the long-term water quality monitoring component of the Upper Mississippi River Restoration Program's Long Term Resource Monitoring element. In partnership with the Army Corps of Engineers and the five upper Mississippi River states, we collect long-term data on water quality, vegetation, and fisheries to assess the river condition over time and see how climate factors are changing habitat and aquatic communities. We use those data to inform how and where we target restoration.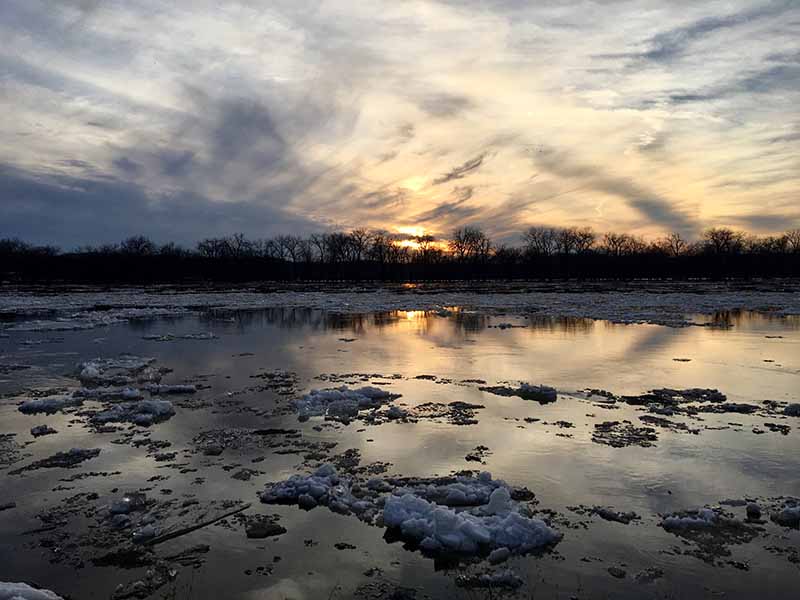 Can you talk about what has been going on in the Mississippi River the last few decades?
We have already been seeing the effects of climate change on the Mississippi River. There's evidence that the region has gotten warmer and that is particularly true of the winter season. We've seen increases in mean air temperature, and it has gotten wetter. We have seen a particular increase in extreme precipitation events. Recent years have also been characterized by other extreme events.
For example, we have seen record setting rain events (in 2022 we saw a rain event that set records with over five inches of rain in six hours), record droughts, and record floods. Over the long-term (since the 1940s, post lock and dam construction), we are seeing more water in the river, more of the time, which has implications for ecosystems and communities in and around the river.
In winter, we've seen changes in ice duration. For example, ice off timing on Lake Pepin near Lake City, Minnesota occurs more than a week earlier than it did in the 1850s when they started taking the records. In the southern portions of the river, we don't have ice where we used to have ice cover. In a recent study, The Ecology of River Ice, projections indicate that the Mississippi will lose much of its ice cover if current climate trends persist.
What has been the impact on the ecology of the river?
There are fewer studies directly linking climate to ecological responses, but we're increasingly seeing the connections. For example, I wrote a paper, Harmful Algal Bloom Research and Monitoring, showing that over the last 25 years, warmer winters were associated with more chlorophyll, or algae, in the river.
We are also seeing increasing incidence of harmful algal blooms in portions of the Upper Mississippi River system, such as the Illinois River. The blooms seem to occur in years with warmer springs and dry summers, but there is still a lot of research to be done to make those linkages.
Why is the Upper Mississippi River Restoration Program important?
The Upper Mississippi River Restoration Program is a partnership of states and multiple federal agencies that have been working together since the late 1980s with a vision of "a healthier and more resilient Upper Mississippi River Ecosystem that sustains the river's multiple uses."
The Upper Mississippi River Restoration Program was created as part of the Water Resources Development Act in 1986, which authorized system-wide river restoration and long-term monitoring and research. The implementation of the locks and dams changed habitat in the river and we have been trying to restore and enhance that altered habitat.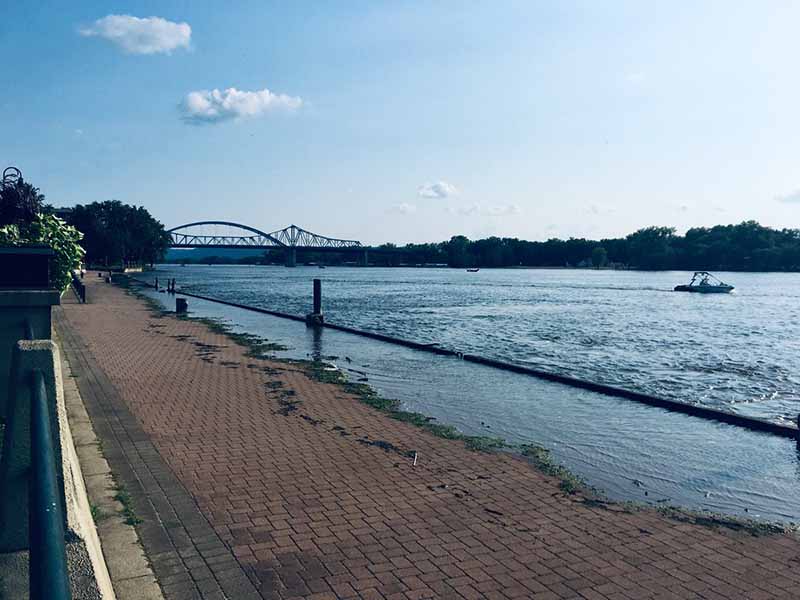 We also restore habitat that is impacted by the ongoing sedimentation and high nutrient loads coming into the river from the watershed. We do things like restoring connections, or creating deep areas, in off-channel backwater areas that are important for fish. We also build islands that diversify vegetative communities and provide fish and migratory bird habitat on the footprint of the original islands that were flooded by the creation of the locks and dams.
What would you want decision makers in Wisconsin to know about this restoration project and why it's important?
We are one of the largest partnerships working in the Upper Mississippi River that is focused on river restoration, monitoring, and research. We have been doing it successfully for 30 years. We have restored about 100,000 acres of habitat over the course of our program and we have one of the largest ecological datasets on a large river in the world, with over 30 years of data on fish, vegetation, and water quality data that help us understand the ecosystem. Our success depends on working closely with partners on projects of high importance in terms of habitat and the ecological and social benefits that they can provide.
We help restore and enhance habitat for migratory birds, over 140 species of fish, multiple native species of mussels, and many others. Our ongoing habitat restoration work with partners and long-term monitoring of the river are important for understanding and enhancing the resilience of the river in face of climate change.
What are your goals for the future?
Currently, I am working closely with Hilary Dugan and Rob Mooney of the University of Wisconsin-Madison, and Madeline Magee of the Wisconsin Department of Natural Resources, to understand the distribution and trends in winter fish habitat in the river. We know a lot of fish species are particularly sensitive to the fast-flowing cold water in the main channel of the river. It is not good habitat for many of the fish that people like to fish for, like bluegill or perch.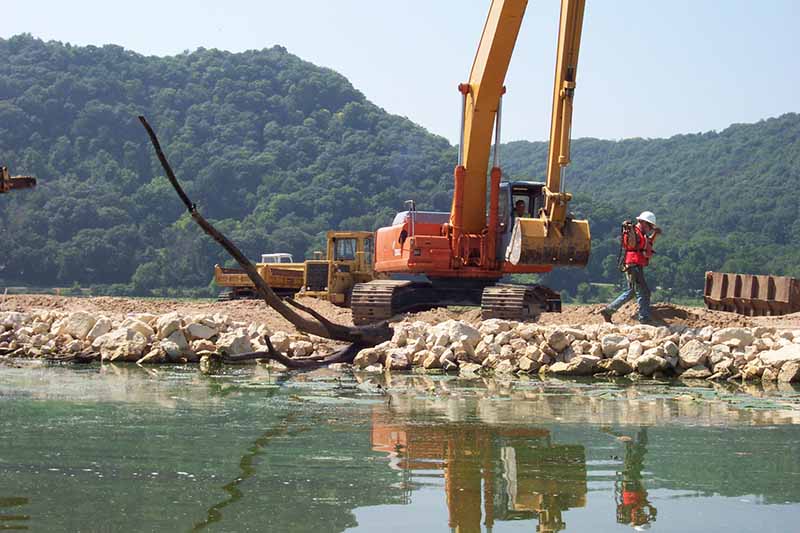 Over the past 10 years, we have seen higher flows during the winter that are bringing more cold water from the main channel into the backwater lakes. We are working to provide information from our long-term data and monitoring to help our partners target protection of the backwater areas. This work will provide good habitat now and into the future as winters change.
The Upper Mississippi River Restoration Program is multitiered and Shawn Giblin of the Wisconsin Department of Natural Resources is an important partner in that program. We are working together to collect more winter data to understand how warming winters will affect conditions in backwater lakes. He does much of the on ground work to plan, implement, and monitor many of these important restoration projects.
Have you noticed any trends from your monitoring program?
In 2022, we published an Ecological Status and Trends report that quantifies the last 30 years of trends we have observed on the river. We evaluated many aspects of the river including hydrology, geomorphic change, fisheries, vegetation, and water quality.
We are finding both good news and bad news. We have seen some long-term improvements in the water quality of the river, including declines in some nutrient concentrations, particularly phosphorus. We attribute this improvement to a combination of improvements in water treatments upstream and reduced sediment loads.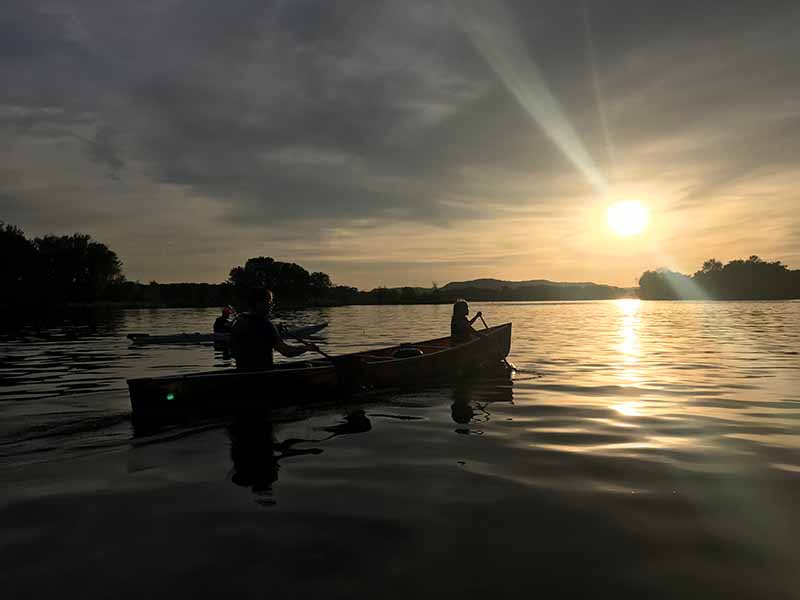 For example, the Twin Cities metropolitan wastewater treatment plant implemented some changes that have had positive impacts on conditions in the river far downstream. Unfortunately, nitrogen is an ongoing challenge and remains high, or is increasing, in several areas of the river.
What would you want people to know about how can they help?
One thing to take away is that this is a big partnership effort. We rely on a large network of states, federal agencies, and local partners to help us identify priority areas. Input from communities and partners on local needs is critical in making these projects, and our program, successful.
Do you have hope for the future?
Results from the latest Intergovernmental Panel on Climate Change (IPCC) report showed us that we are locked into at least three decades of intensifying climate change. Given that reality, what gives me hope is that the Mississippi River is not new to major challenges. We have had to deal with nutrient pollution, invasive species, and all kinds of other pressures on the ecosystem.
Because of the partnerships that resulted to address those threats, we are well set up to work together to address the big one — climate change. That gives me hope. We have worked together and been funded continuously for 30 years, which I think is a testament to the success of the restoration projects, the value of long-term data in telling the river's story, and that people are seeing the benefits where they live.
Learn More
The views and opinions expressed in this interview are those of the authors and do not represent official policy or position of the University of Wisconsin-Madison or the Wisconsin Initiative on Climate Change Impacts.
For More Information
Kathi Jo Jankowski
Research Ecologist
Upper Midwest Environmental Sciences Center
United States Geological Survey
(608) 781-6242
kjankowski@usgs.gov