By Rick Lindner
Interviewed by Dea Larsen Converse, WICCI Science Writer
Rick Linder is the President of Nelson Lake Association
Where is the lake located?
Nelson Lake is in Sawyer County, northwest Wisconsin, just north of Hayward.
How long have you been a member of the association?
I have been a member since 2000, on the board since 2012, and been the president for past four years.
Have you seen any changes on the lake during the time you've been there?
Yes, there have been changes. Ten years ago, we saw a cycle when we had lot better water clarity and then that started diminishing. Five years ago, we started having a couple of years where we had a lot of algae blooms in the first two weeks of August and then, in the late fall, that cleared up. Now we have a lot clearer water than we had in the past. It started late last summer and it maintained through the winter. It was much clearer this summer. Our normal Secchi disk (clarity) reading is about four to five feet. This summer we have been seeing about seven feet pretty regularly. It has cleared up quite a bit. This is a flowage, so we don't have very clear water. Five feet readings are pretty normal.
What have you been seeing in terms of the fishing?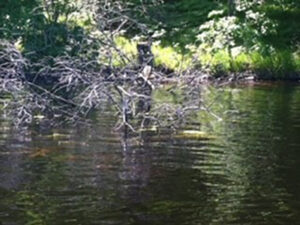 This goes back a long way. When I first started coming here in 1985 for fishing on the lake, we had an overabundance of walleye in the lake. There was a time where we had forty walleyes per acre. Back in those days, they used to stock some walleye fry and the walleye population was very high. We didn't have any bass in the lake to speak of. There was some bass stocking that was done back in those years and the walleye population decreased significantly to the point where ten years ago we were down to four walleyes per acre. Now we have seen some slight increase. We don't have any numbers because the last time the Wisconsin Department of Natural Resources did the survey was in 2014. They were supposed to do it again in 2019 but they didn't because of Covid. From the observations, walleye fishing is good this year and there's were a few nice sized walleyes taken out of the lake by the tourists and people staying at the resorts. So, the walleye population went down a bit and then went down a lot and has started coming up very, very slightly. My observation is that it's a bit better than it was four to five years ago. It's not near what it was before.
As a lake association do you help with fish habitat or water quality?
Yes, in 2012 started putting trees into the lake and tied them to the shoreline along the county forest shorelines. We did that for about five years and added about 1,100 trees to the lake's woody habitat. We've also continued with the stocking program. Two years in a row we stocked white suckers because we thought that the food population was diminished. We hadn't been seeing a lot of suckers, so we stalked 1,000 suckers two years in a row. We have continued the walleye stocking. Two years ago, we stocked 900,000 minnows along with the 27,000 extended growth walleye in an attempt to increase survival. But data didn't confirm any improvement. A recent survey concluded there is ample forage fish in the lake so minnow stocking isn't needed.
Has your association done any work on improving water quality?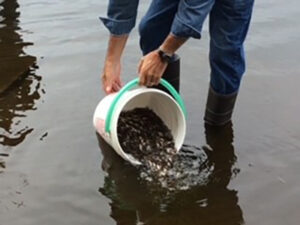 Last year, we did a winter drawdown of the lake. It was the first year it was ever done. We took the lake down four feet. We were able to do that because the county wanted to inspect the dam and we also needed to improve the launching ramps. We were able to accomplish both of those things. We had it down four feet over the winter. We think it helped with some of the weed growth. I think overall, there has been a fifty percent reduction in weed growth in some areas along the shoreline. We hope that helps because it's supposed to open up some of the spawning beds. If we can get rid of some of the weed growth over the spawning beds, we may see more natural reproduction. This year, a lot of that dead weeds are lying on the bottom and they haven't really decomposed completely yet. That has had an impact on the bass fishing. The bass have moved to other areas of the lake, where there isn't all that dead weed composition at the bottom.
The Nelson Lake Association also maintains a Clean Boats, Clean Waters program at both public accesses. This also contributes to our ability to keep invasive weeds from entering the lake. We don't have any Zebra mussels, Eurasian water milfoil, or Curly-leaf pondweed. We do have a group of people that monitor different sections of the lake. We have the lake divided up into thirty-one sectors and we have members that volunteer to inspect each sector for invasives every year in June and August.
Do you feel like you are going to be able to keep on fishing for walleyes in the lake? Do you have hope?
Oh yeah. I think we will. As mentioned previously we are doing a lot of things to bring walleye back. The bass population has decreased a bit, but the size has increased. Last year the lake was very popular for the fishing tournaments. There were fishing tournaments almost every weekend last summer. But with the bass in different areas this summer it's been a lot harder to catch them, so the tournaments haven't been showing up.
The views and opinions expressed in this interview are those of the authors and do not represent official policy or position of the University of Wisconsin-Madison or the Wisconsin Initiative on Climate Change Impacts.