Richard Kubicek is an archeologist at the Wisconsin Department of Natural Resources. Ray Reser is a professor emeritus of archeology at the University of Wisconsin-Stevens Point. Janet Speth is a retired archeologist at the Wisconsin Historical Society and honorary fellow of UW-Madison Zoological Museum. Jennifer Haas is the director of the Archaeological Research Laboratory Center at the University of Wisconsin-Milwaukee.
Who are you/what are your roles?
Richard: We are all members of the Wisconsin Archeological Survey committee recently created to look at how climate change is going to impact cultural resources.
What has been happening with climate change and cultural resources?
Richard: One recent incident is a good example. A visitor at Whitefish Dunes State Park found cultural artifacts eroding out of the dune faces as they walked along the beach. They notified the former state archeologist, who notified the Wisconsin Department of Natural Resources, who retained a professional archaeology program to investigate. Citizen notifications are the most common way we find out about these sites. People who leave artifacts in place and notify authorized staff of these disturbances are helping us track impacts to these sensitive sites.
Jennifer: Since the dunes are a unique natural environment, we focus on protecting them. This means that we prefer not to disturb them for archeological research. That makes this situation unusual. We found a half mile section with materials eroding out of the dune surfaces. Some of the material came from discrete features like cooking pits or refuse pits, but there is potential for more deeply buried ancient deposits because of the geological history of dunes. It is a unique type of archeological site, with very discrete bands of living layers separated by layers of sterile sand. You can easily date the material from these sites on a very fine-tuned scale, which is rare.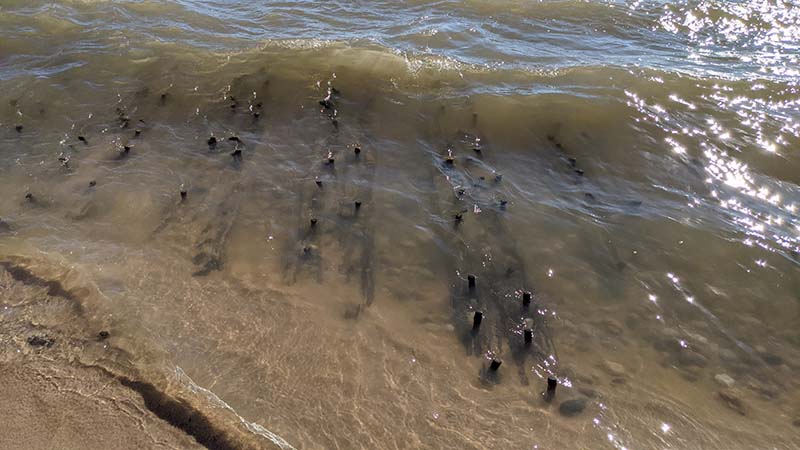 Why are archeological deposits at Whitefish Dunes State Park?
Richard: Whitefish Dunes State Park has one known site listed in the National Register of Historic Places. The site is a prehistoric Native American village from around 1100 to 1400 AD. But there has not been a lot of archeological research done throughout the remainder of the park. The deposits all up and down the shoreline mean that either the site is much bigger than we were aware of or there are a number of sites or villages that have not been identified yet.
Why are these sites being exposed? Is it a pro or con?
Richard: Extreme storms are becoming more frequent as the climate changes. These cause shoreline and dune erosion, especially at high lake levels. That is leading to the exposure of buried cultural materials.
Jennifer: It is mostly a con because the resources are being destroyed. Once cultural resources are gone, they can't be recovered. We don't even know what we're losing at Whitefish Dunes, we just know that it's being lost.
Are other areas of the state losing cultural resources?
Richard: The Driftless Area is also being severely impacted. In some of these recent heavy rainfall events, the tops of bluffs will slide off onto the road. Mound sites are often at the top of bluffs, so this could lead to the loss of entire effigy sites. Observationally, within the last 20 or 30 years there appears to be some sort of change that is hastening erosion at petroglyph sites. This is causing rock art that has stood for centuries to weather and spall at a rapid pace.  Those beautiful rock art panels that have been around for so long are disappearing at a relatively rapid clip.
Ray: An area where we are seeing additional threats is in central Wisconsin. We are seeing increased storm events and we are at a 70-year high for rainfall and a 90-year high for groundwater levels. This means that a lot of sites are saturated that are typically above the water table. When we get a severe storm, we lose a lot of big trees. If those trees are on or adjacent to Native American burial mounds or mound groups, they open them up. It is a hard thing to quantify but it is having a noticeable and detrimental effect to the archeological and cultural record in the central part of the state. Counties and municipalities have all been extremely receptive about planning and how to protect these sites. We have an open dialogue with the tribes about what we can or can't do on those sites once they are damaged.
What else would you want people to know?
Richard: Reporting damage to sites is a great thing for people to do. It's a way to be a good citizen scientist. We don't have a million archeologists out on the landscape, checking in on sites, so for citizens to report damage is very important. Folks should always remember though, leave all cultural materials in place, take only photos, and avoid or minimize foot traffic in sensitive areas.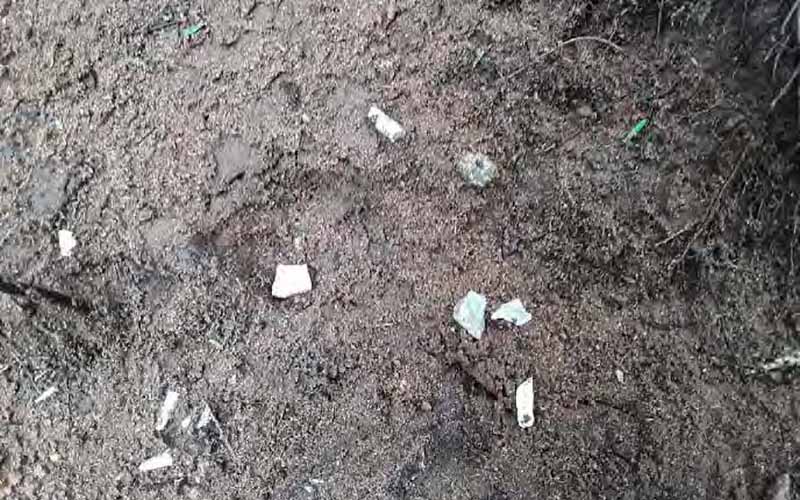 How should local governments protect cultural resources?
Jennifer: That's what our committee is trying to figure out right now. The first step is to generate awareness of the issue and these archeological sites. We would like for the general public to have awareness and appreciation for the cultural heritage of our state. If we can generate some cultural awareness, that is really worthwhile.
Janet: There's a lot of flooding, and that has seriously affected archeological sites. Climatologists are saying this is the new normal, so we may need to take into consideration how we deal with archeological sites and burial sites in the state.
Ray: Wisconsin has good current site protections, with strong burial laws compared to many other states. We are probably going to have to look hard at how to plan for naturally occurring damage to these sites as we move ahead.
Richard: A variety of federal agencies, state agencies, and non-governmental organizations are investigating climate change and impacts to cultural resources as a part of a broader effort to understand how climate change impacts our world. Understanding that historic sites are a part of the landscape and are impacted by these same forces should hopefully precipitate interest in preserving what we can and mitigating losses to what we cannot save.
Learn More
The views and opinions expressed in this interview are those of the authors and do not represent official policy or position of the University of Wisconsin-Madison or the Wisconsin Initiative on Climate Change Impacts.
For More Information
Richard H. Kubicek
Departmental Archaeologist/Historic Preservation Officer
Wisconsin Department of Natural Resources
Richard.kubicek@wisconsin.gov
Ray P. Reser PhD, RPA
Curator of Anthropology
Professor Emeritus of Archaeology
University of Wisconsin-Stevens Point
rreser@uwsp.edu
Janet Speth
Archeologist (retired), Wisconsin Historical Society
Honorary Fellow, UW-Madison Zoological Museum
janet.speth@gmail.com
Jennifer Haas
Director
Archaeological Research Laboratory Center
University of Wisconsin-Milwaukee
haasjr@uwm.edu