Ned Noel is the city planner for Eau Claire, Wisconsin.
Who are you and what is your role?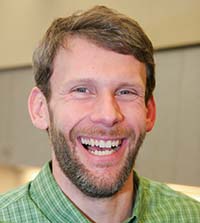 I have been with the City of Eau Claire for 14 years. I am the main contact for climate change and sustainability work and I lead the local government Green Team.
What led you to take action and what actions did you take?
In Eau Claire, we have not seen too many severe events from climate change. We had a massive wind storm a couple years ago, and record snowfall recently. We are slightly flood prone but the watersheds are pretty good for conveyance of water into the rivers and so we haven't seen much flooding.
While we haven't experienced any massive disasters, we do recognize the issue in our multi-hazard mitigation plan. We approach climate adaptation more as an issue of energy resiliency, reinforcing the levies, and addressing vector-borne diseases like ticks and mosquitoes.
To create our original 2009 and 2015 update to our sustainability plan we created a steering committee with a mix of local representatives from the community as a whole. We believe this approach helped the community accept the plan recommendations. The city council passed both plans unanimously.
We tend to think of ourselves as realists here in Eau Claire—we want to push the envelope but we also have to be practical about how to move things forward logically, financially, and sensibly. Rather than create a pledge with some arbitrary vision, we focus on how to get there. This practical-based focus creates buy-in for the community.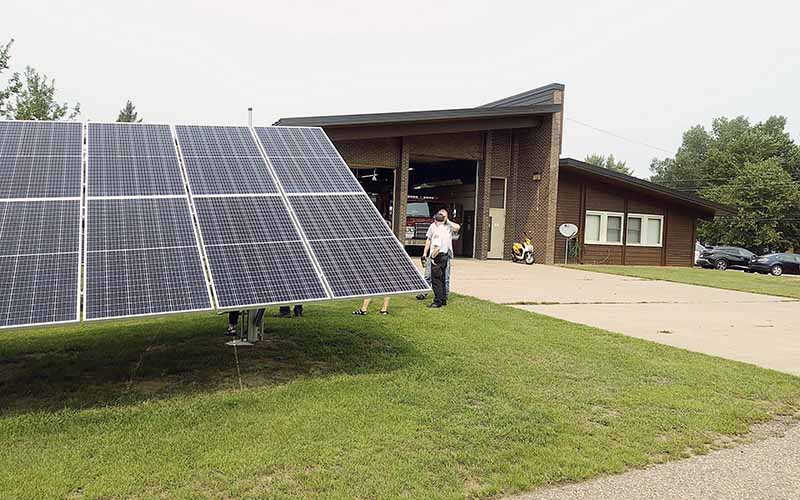 What practical steps have you taken?
We created a Renewable Energy Action Plan (REAP) campaign to take the ideas, policies, and projects out of the Renewable Energy Action Plan into households. Community members form teams within families or with coworkers and neighbors. We provide a "low carbon diet" workbook for the teams to work through. The program is incentivized with prizes for the greatest decarbonization. We adapted this campaign from a program in Urbana, Illinois.
We are trying to provide a fun way for people to get involved and build community. We rolled it out in mid-May and teams need to complete the work by mid-September. We will see where it goes.
What advice would you give to other municipalities?
I think we're fortunate because our public and city council values sustainability efforts. If you're fortunate enough to be in that position, then I would tell them to look for grants. The City of Eau Claire has gotten a lot of grants from the state and nation to create these robust plans and implement projects.
Getting the funding has helped show that working towards sustainability is cost-effective. This can help you gain traction at the city level with purchasing decisions and deeper buy-in. It really helps when you have the elected officials on your side and it's in your organization's strategic plan.
Are there any organizations or resources that you used to inform your work?
I heavily used resources from a website that had impact stories from different industries and maps of climate projections in Wisconsin. I have used these maps extensively in the language that we use to talk about why this is necessary — that we are warming, whatever the cause. I have relied on WICCI's temperature and precipitation data heavily and incorporated them into our climate action and sustainability plans.
The Wisconsin Local Governments for Climate Coalition was formed recently to focus on state advocacy. There are currently representatives from Milwaukee, Madison, Racine, Green Bay, and others. They are in the process of recruiting other communities.
At this point we need state help related to more aggressive building codes, reforms in practices in land use and carbon accounting. We can only do so much at a local level until we get some of these state codes to change. Getting those types of resources from the state level would help smaller communities that don't have the resources to focus on this.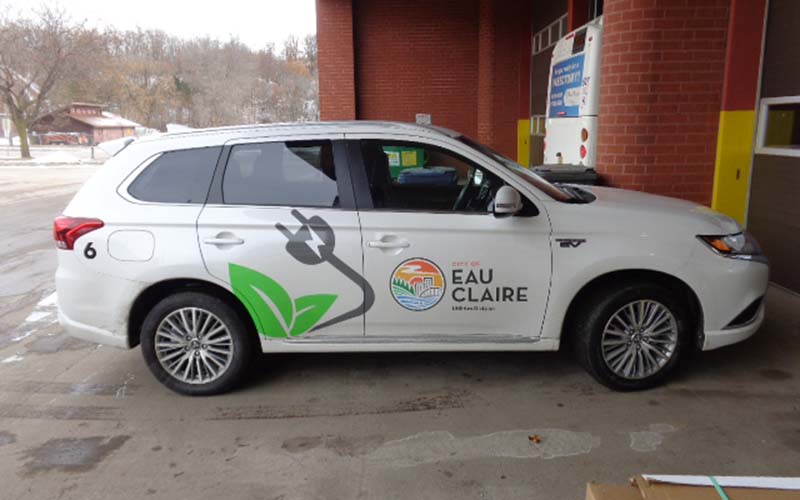 What else do you want people to know? 
I want people going into this to recognize that becoming a sustainable community is a systemic change, which is complicated. As a planner, we think about how these systems come together, like housing, health, transportation, water use, energy use. I think sustainability is that sweet spot to address all of that in a fiscally responsible manner. The efficiencies achieved by sustainability will actually decrease costs over time.
As a community, we need to think about the implications of our collective decisions. It's about understanding that decisions we're making today will lock us into things that, as a community, we don't value anymore. We are right on the cusp of change, so it will be challenging to shift our mindset. Fiscally, it feels risky to take on new technology and safety is always paramount.
For example, the Eau Claire library is undertaking a massive overhaul with their addition and they have a carbon neutral goal. If they commit to natural gas, they can't hit that future goal. In the end, they committed to using geothermal energy, which is more expensive now but will save money in the long run. They made this move even though they could not get a grant for the system.
Those are the tough decisions, when it comes down to it. It is going to have to be more and more of those decisions, small and big, to start shifting away from a fossil fuel-based economy.
Do you have hope for the future?
We are living in exciting times. I think I have hope. But also, in the back of my mind, I'm worried about us putting a lot of saving grace in renewables and electric vehicles. A lot of resources to support those industries have to be mined and extracted, and then disposed of. I wonder if we are learning from our past mistakes.
I'm worried about groundwater contamination. It would cost more but can we recover the cost of recycling solar panels in Wisconsin? If we are going to truly be sustainable, let's make sure these new systems can actually be recovered. We also need to deal with a lot of social issues if we are really going to better civilization and our planet.
Learn More
The views and opinions expressed in this interview are those of the authors and do not represent official policy or position of the University of Wisconsin-Madison or the Wisconsin Initiative on Climate Change Impacts.
For More Information
Ned Noel
Senior Planner
203 S. Farwell Street
Eau Claire, WI 54701
(715) 839-8488
Ned.Noel@EauClaireWI.gov