Cathy Techtmann is an environmental outreach specialist for the University of Wisconsin-Madison Division of Extension.
What is your role/who are you?
My role is to make environmental issues come alive to a variety of audiences, build understanding, and encourage action. My work is focused on sustainability and climate change education through partnerships with local and tribal communities, for people of all cultures. I am based in the homeland of the Lake Superior Ojibwe people.
I work to promote awareness of climate change by integrating traditional ecological knowledge or indigenous science shared by tribal partners with place-based evidence and "academic" science. I help people move from awareness to taking action that will help decrease climate change and build resiliency.
What has been happening in northern Wisconsin?
We've seen many of the same types of climate impacts that other parts of the state are experiencing. Northern Wisconsin's environment and the plants and animals that live here are adapted to cooler temperatures. We rely on sustainability of these cool habitats to support many cultural, recreational, and economic activities that also provide jobs and income.
However, we are seeing place-based evidence of change. We are experiencing more flooding due to more large-scale rain events, like what is happening across Wisconsin. We've had several successive floods since the early 2000's. The latest major flood in 2016 destroyed Saxon Harbor in Iron County with the loss of a life. This event also significantly impacted the Bad River Tribe, our neighboring Ojibwe community.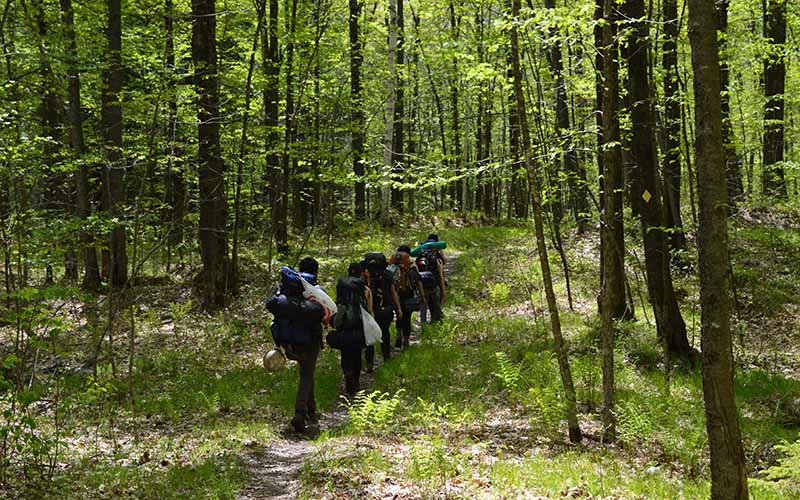 Regionally, it washed out highways and transportation systems, some of which may never be rebuilt including rail lines. It caused a lot of economic and personal hardship and destroyed infrastructure that will be expensive, and perhaps impossible for our communities to replace.
We are experiencing warmer summers and warmer winters. Here in northern Iron County, winter activities are big. We are in the area called "Big Snow Country" which is known for large, consistent snowfalls that come off Lake Superior. This supports downhill and cross-country skiing, and snowmobiling providing recreational fun, but are also big economic drivers.
We have seen a significant shift, with snow coming later and in lesser amounts. Local ski areas now make artificial snow in order to have reliable snow. Some of our early winter events, like Hurley's Red Light Snowmobile Rally, once allowed the area to "capture" the market because of its reliable early snowfalls. This event has not happened for many years due to lack of consistent snow.
We have also seen more winter precipitation come as rain rather than snow. Thanks to being in the Lake Superior "snowbelt," we are still getting enough snow to support winter recreation and tourism when other areas of the state lack snow, but the winter is changing.
Warmer summers and winters impact the habitats and species that are critical to our cultures and economies. Not only are our tree species changing but so is the composition of our forest and what it provides. Sugar maple, paper birch, and balsam are among tree species being stressed. For example, we have had inconsistent seasons for maple syrup production due to fewer nights below zero that promote good sap production.
Climate change is also affecting the logging industry. Warmer winters means fewer days when roads and swamps are frozen enough to support heavy equipment and trucks. Skidders get stuck and loggers are not able to access wooded areas to get their product out. Changing winter temperatures becomes a pocketbook issue.
Tribal wild rice harvesters have also shared that their harvest has been changing. Manoomin or "wild rice" thrives in cool, shallow waters with moderate water lever fluctuations. It is culturally important to the Ojibwe people. Intense flooding events are becoming more frequent and can wash away wild rice. Warming temperatures and higher humidity favor disease. Wild rice harvests have been affected and even canceled in recent years. According to some tribal members, this has never happened as far back as can be remembered.
More and more people are seeing the place-based evidence that climate change is happening, both locally and globally. These changes are getting people's attention, but we need to be careful. Sometimes place-based evidence of change can actually be due to short term weather variability and not longer term changes in the climate.
For example, a winter cold snap may be interpreted as proof that climate change isn't happening. If we apply Indigenous ecological knowledge that has been gained over long period of time and with scientific knowledge, we can evaluate whether the changes we are experiencing are truly a shift in our climate.
How can the University of Wisconsin-Madison Division of Extension help?
Extension is very decentralized with educators embedded in all 72 counties of the state and several of the tribal nations. These educators bring a variety of program area expertise such as family and well-being, food and nutrition, community development, natural resources, and agriculture.
Because each of these communities has different perspectives and needs, a "one size fits all" approach to climate change will not be effective. Climate education should be crafted so that it relates to what the local community is experiencing, and respects what it values. This makes Extension climate outreach as unique as the communities it serves, but remaining grounded in research-based information.
A number of Extension educators across the state have formed a climate leadership team to help build their colleague's capacity to guide communities in responding to climate change through professional development webinars, customized training, and online resources.
Do you have hope for the future?
Yes, I do have hope. When we started working on this issue with our partners, we took a bold position that climate and weather are different, climate change is happening, and people contribute to it. The last point can be a stumbling block for some people, but it means we are not victims. We can do something about climate change.
I am hopeful in people and their resiliency. It's going to be challenging because it will take very big efforts. Like the old saying that "a journey of a thousand miles starts with a single step," we should support any step an individual or community can take to decrease climate change and build resiliency. We need to meet people where they are on this issue and build action from there.
Climate change sometimes comes off as a problem affecting other parts of the world or an issue that will affect people sometime in a distant future. While this is true, it's important to help people understand how climate change is affecting them and their families now and in the near future using local place-based evidence, supported by science.
The more we can relate climate change to what people value, whether it be their families, economic activities, or lifeways; the more the message will "stick." Climate change brings challenges, but opportunities too. We need to tell the whole story and provoke action that builds resiliency while decreasing the causes of climate change.
Unless you can name something, you can't address it. For many people, there is hesitancy to even talk about climate change so it remains out of sight and out of mind. By helping people find ways to respectfully discuss climate change, we can find common ground to take action together to respond to it. As shared by Bad River Tribal Elder Joe Rose, "the culture and lifeways of future generations will be affected by the choices we make."
Learn More
The views and opinions expressed in this interview are those of the authors and do not represent official policy or position of the University of Wisconsin-Madison or the Wisconsin Initiative on Climate Change Impacts.
For More Information
Cathy Techtmann
Environmental Outreach Specialist
Community Development Institute
University of Wisconsin Madison-Division of Extension
300 Taconite St., Courthouse
Hurley, WI 54534
(715) 561-2695
cathy.techtmann@wisc.edu