A recently released report on climate impacts to water resources in Wisconsin from the Wisconsin Initiative on Climate Change Impacts (WICCI) shows that warming temperatures and changing precipitation patterns are impacting Wisconsin's wealth of water resources.
A group of experts participating in the WICCI Water Resources Working Group found that rising air temperatures, more precipitation from fall to spring, and more frequent and larger extreme precipitation events are climate impacts affecting Wisconsin's lakes, streams, groundwater and wetlands. Wisconsin's average daily temperature has become three degrees Fahrenheit warmer since the 1950s. Precipitation has increased 17 percent, about five inches, since 1950. The last two decades have been the warmest on record and last decade was the wettest.
Water levels and flooding
The group found that as average precipitation and storms increase in Wisconsin, they are delivering large amounts of water in short periods that result in flooding problems. Areas with permeable soils are especially vulnerable to groundwater flooding, which occurs when the water table comes above the land surface after periods of higher-than-average precipitation. This type of flooding occurs around lake shorelines, in wetlands, and in other areas where the water table is near the surface.
Stream flooding associated with large storms is also a concern, causing damage to infrastructure, habitat loss, and risks to human health. The fast-flowing water during floods increases erosion and can also cause deep channels to form that intensify the flow of stormwater. These channels further reduce flood storage, degrade water quality, and increase downstream flooding.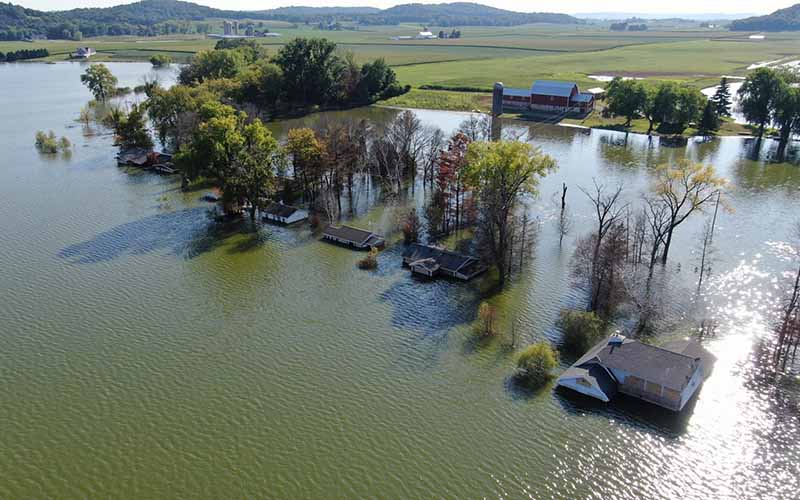 Water quality
The group also found that warmer water temperatures combined with more runoff from extreme precipitation events threaten water quality. In built areas with large amounts of impervious surface, runoff receives little natural filtration, enabling sewage overflows and a wide variety of pollutants to reach surface waters. Statewide, nutrient runoff from agricultural lands is a major water quality issue that fuels algal blooms. Erosion and sedimentation are also a concern in many areas, including forested lands.
Warming water temperatures
In addition, the group found that as lake water temperatures have warmed overall, the risk of fish kills and toxin-producing algal blooms is increasing. As the air temperature continues to warm, lake surface water temperatures in all lakes will also warm, changing lake ecology. Fewer lakes will be able to support cool-water fish like walleye and warm-water fish like largemouth bass will be much more common as waters warm by mid-century.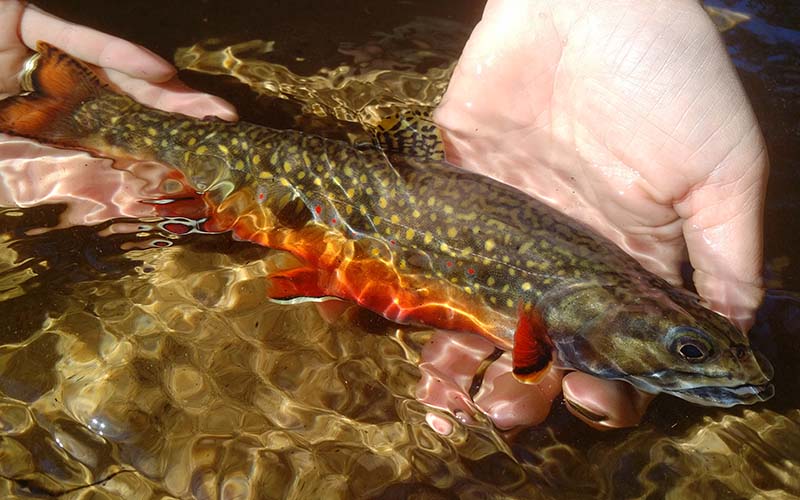 Impacts on communities
While all communities in Wisconsin are at risk from flooding and changes in the natural com-munities, historically disadvantaged communities bear a disproportionate burden and suffer the greatest harms. For example, Wisconsin tribes that rely on wild rice beds, fish, and wildlife stressed by climate change are particularly at risk. The Bad River Reservation on the south shore of Lake Superior has seen impacts to tribal wild rice harvests from unprecedented flooding events and water level fluctuations in the past decade on the Kakagon and Bad River Sloughs, large healthy freshwater estuaries.
Solutions
The WICCI Water Resources Working Group suggests solutions to prepare for and minimize climate impacts to water resources, like increasing water storage across the landscape, installing green infrastructure, protecting wetlands, building outside of flood zones, and installing flood warning systems. Visit the Water Resources Working Group webpage to learn more about these issues, impacts, and solutions.
This article is part of a series highlighting the contribution from each WICCI Working Group for the 2021 WICCI Assessment Report.
Water Resources Working Group - Stories
Support WICCI
Gifts to the Wisconsin Initiative on Climate Change Impacts (WICCI) Program Fund provide general, discretionary program support and are used to enhance and expand WICCI's teaching, research, and public service roles. Gifts are also used to support partnership-building activities, include faculty, staff, and student recruitment, retention, and morale.
The Wisconsin Initiative on Climate Change Impacts (WICCI) is a statewide collaboration of scientists and stakeholders formed as a partnership between UW–Madison's Nelson Institute for Environmental Studies and the Wisconsin Department of Natural Resources. WICCI's goals are to evaluate climate change impacts on Wisconsin and foster solutions.